Carpet Shampooing and Spot Removal
In depth cleaning using the latest and most powerful machines and methods.
Request a quote
Wool or synthetic, woven or tufted, at Rock Mountain Cleaning we know how to restore your carpet's appearance, providing you a healthier indoor environment and removing years of grime, dirt, grease and particles from your carpet and underlayers. You'll love our attention to detail and find our service easy and convenient.
Save 10 – 20% with our year-round value pricing based on the size of the carpeted areas cleaned and the level of furniture moving requested. Our aim is to provide you with the highest quality of service and cleaning. We will provide you with a simple to understand, no gimmicks pricing structure up front and immediate quotes over the phone.
What to expect from Rocky Mountain Cleaning Carpet Shampooing
We inspect and evaluate your carpet for conditions of special concern.
We pre-condition your carpet, as needed, for more thorough soil removal.
We protect your walls with corner guards and elevate draperies.
We move and reposition your furniture with care as we access your carpeted areas for cleaning.
We thoroughly clean and extract your carpet (using our hot-water extraction method as recommended by carpet manufacturers) to restore your carpet's appearance and create a healthier indoor environment.
We accelerate the drying of your carpet with a high-volume air mover to return your carpet to normal use with a minimum of inconvenience.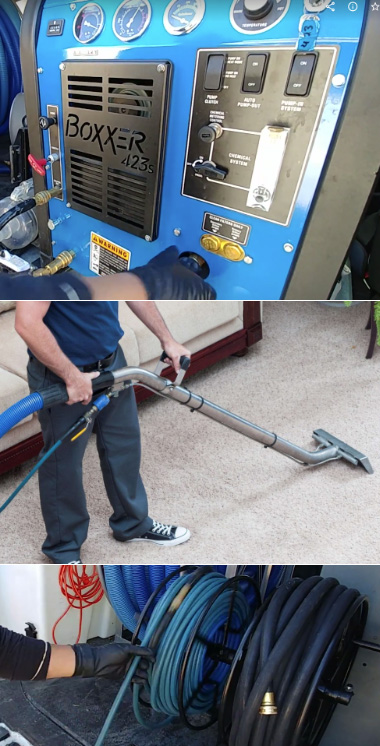 Tips on how to obtain the best carpet cleaning results
BEFORE CLEANING
Point out specific carpet conditions or soil/stain concerns to our cleaning technician
Secure your small breakables away from the carpeted areas to be cleaned
AFTER CLEANING
Freshly cleaned carpets typically dry within 8 – 24 hours. This process can be accelerated by properly ventilating the space and keeping the interior temperatures between 65 and 75 degrees
Avoid foot (and pet) traffic on your cleaned carpet until it is completely dry
Refrain from repositioning furniture onto your freshly washed carpet until it is completely dry
Exercise care and caution when walking from your freshly washed carpet on to a hard surface as the transition may be slippery
How to best care for your carpet:
Carpet represents a significant investment when referring to your interior finishes. Adequate and regular care can add years of life to your carpet and help retain its original appearance. The best advice for keeping that like-new appearance is keep the carpet from becoming badly soiled. Once that happens, stronger cleaning solutions and harsher mechanical action are needed to recapture an acceptable appearance level.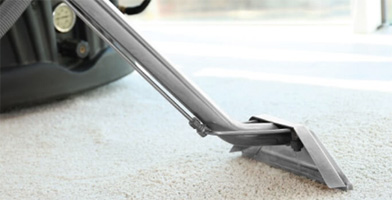 The key to keeping your carpet looking its best center around three basic steps:
Frequently and thoroughly vacuum the carpet.
Promptly address and remove stains and liquid spills
Wash regularly, depending on use we recommend your carpet be shampooed at least once a year.
Vacuuming
Your vacuum cleaner is likely your best tool in keeping your carpet free accumulating soil and other fine particles. Vacuum regularly to keep soil from becoming embedded in the carpet's pile, where it is more difficult to remove and where it can even cause fiber damage, and dull the carpet's appearance. We recommend you use a vacuum cleaner withgood suction for dry soil removal, and equipped with an effective high filtration bag. Also make sure to regularly change the bag and clean the vacuum's filter. This will not only ensure you're getting the all of the motors suction power but will also extend the life of your vacuum and avoid dust and other alergens from becoming air born.
Thoroughly vacuum the light traffic areas at least weekly, and even daily in the heavily used areas. Vacuum slowly, with a number of passes, to allow the extraction action to remove embedded particulate soil. Consider the use of walk-off mats at entry areas to reduce the amount of soil entering the interior spaces.
"They are the most accommodating people and their work is terrific. My carpet was a hot mess and he did such a great job cleaning it. Totally recommend it! Not the cheapest but certainly the best" Sophie K.
"The company is prompt, fairly priced, thorough and efficient and Ivan was great to work with!" Michael R.
"Talked to Ivan for a carpet cleaning and he managed to schedule me in the very next day and did a wonderful job. I attempted to clean the carpet myself with a rental from Home Depot and wasn't thrilled with the result, so I gave Rocky Mountain Cleaning a call. He did it quick and efficiently for a very good price. Will recommend to friends" Anthony S.